Thanks to everyone who braved the inclement weather to come to the market yesterday. Your patronage (and company) is much appreciated. And thanks to mother nature for holding off the worst of the storm until the market was over! Wasn't that lightening amazing last night?
Starting next week, Sunday Oct 28, i will be doing the Sunday Harvard Sq (Charles Hotel ) market as well as friday.  Just for four weeks, until the market closes the Sunday before Thanksgiving. I have a new helper, Tim, who has lots of farmer's market experience, but is new to my product, so be patient with him please! He has been selling honey and working for a second vendor who makes cheese. So desserts are new for him, though he has tried my products many times while working at the same markets  as me. If you are interested in starting your own bee hive in your back yard, talk to him!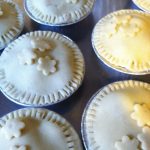 I now have gluten free organic ingredients* pot pies. I par-bake and freeze them so they are ready for you to pop in the oven for some warm homemade goodness. Personal size and family sizes available. This week i made two sauces: béchamel and cheddar cheese. The cheese is Cabot and is the only thing not organic in the pies. The veggies i used this week were broccoli, green beans, carrots, sweet potato, butternut squash and yukon gold potatoes. All mixed in a creamy sauce.  And decorated, of course, with either flower cut-outs for the cheese or stars for the béchamel.
*i can't use the label "organic" because i'm not certified, but all the ingredients i use, except for the cheese, are organic.