General Information:
Our classes are all held at the bakery 1001 Mass Ave, Cambridge 02138, just across the river from Boston.
Class size is 5-8 people (under 5 enrollments we reserve the right to postpone to later date.)
Classes must be paid for in full to reserve space. Class fees are non-refundable (unless we can fill your slot.) If we postpone a class due to low enrollment, we will refund your money. If class is cancelled due to weather, we will endeavor to make up the class within a week.
Class reservations/payment can be made in the store, via phone 617 945 7660, or by sending in a check (after calling store to reserve your space!)
French Macarons 
Sat, Aug 23rd @ 1-4
These delicate sandwich cookies can be tricky!
Learn how to make the shells and fillings with ease.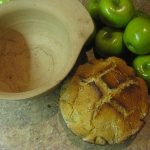 Milling and Mixing GF Grains
Sat, Sept 13th @ 1-4
Learn how to mill your own grains for premium freshness and how to make flour blends to suit the taste of different recipes.  We will be looking at the technical side of baking (ratios, measuring, substitutes) with the goal for you to become more confident in your own gluten free baking. We will be tasting various Violette products to learn more about how taste comes forward in gluten free flours.
Cake Pops for Kids (big or little)!
Sat Aug 2nd @ 2-4 (Special price $55)
Kids (and adults) will mix, roll, dip our famous cake pops
while learning a thing or two about the kitchen.
Converting your favorite recipes to Gluten Free!
Sat Oct 4th @ 1-4pm
Love your granny's cookie recipe but can't eat it any more because you are GF? Learn how to convert wheat based recipes to gluten free. We will be soliciting recipe ideas from students in advance.  And will work on 2 conversions in class. This class is meant to be a follow up class to Milling and Mixing GF grains. Students should have a basic understanding of GF baking. (If you don't, please come to the Grains class first!)
Pies!
July 19, 2014 (sat) 1-4pm
Learn how to make a delicious pie crust for your favorite sweet and savory pies. We will make a pie with whatever fruit is in season.