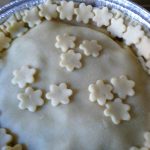 With either cheese sauce or bechamel. The flowers designates the cheese sauce and the bechamel has stars!
Pies contain all organic ingredients and are gluten free,  of course. Veggies include: broccoli, green beans, carrots, butternut squash, sweet potato, yellow potato.
Comes in personal size or family size. The one on the right is a large family size –a 4+ pound pie!