RAIN OR SHINE, I'll be at the Charles Hotel market on Friday. Think sunshine, please, as "they" are predicting rain.  Nah! (fingers crossed.)
Cookies::
Chocolate chip cookies with dried cranberries and toasted walnuts
French macaron ( ultra vanilla, chocolate-lavendar)
Fingerprint cookies with assorted fillings (dark chocolate, carmel, fresh conserves)
Cupcakes:
Pumpkin chiffon with ginger creme
Persian Love cake with cardamon, rose and saffron creme
Flourless chocolate with bittersweet-honey glaze and rose-lemon french creme
Double chocolate cake with peanut butter creme
Other:
spiced apple bread pudding topped with caramelized honey, pine nuts and almond slivers
blueberry chèvre, chive and walnut muffins
Vegetable pot pies (parbaked and frozen for you to bake fresh!
Cakes: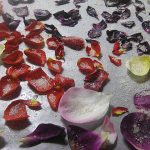 Persian Love
Pumpkin Chiffon
Flour-less chocolate
European style lemon poppy cake
Bread:                                                     
plain brioche
chocolate brioche
honeycomb brioche with pine nuts and almonds
sweet cheese brioche with raspberry, cherry, or blueberry homemade conserves
English muffins
cheddar loaf (rolls and loaves)
Sourdough boules and baguettes
French bread